Global Café
Global Café is a great resource and opportunity for students to connect with graduate student mentors to acquire the tools and resources necessary for conducting independent research, applying for grants or fellowships, writing an honors thesis, applying to graduate school, and more. In addition, the Global Café Event Series invites unique, diverse speakers each quarter during the academic year. The small, workshop style talks are a perfect opportunity to connect with alumni, graduate students, and international scholars.
Students of every level are welcome, and refreshments and light snacks are always provided. The Global Café is located at 2010 Sheridan Road, room 201 (International Studies Program).
The Global Café is an ideal resource for all types of students including those who are:
planning on studying abroad and are interested in carrying out international projects,
who have come back from abroad and want to start their own projects,
who are interested in applying for research grants or other funds
who are interested in conducting an Honors thesis,
who are interested in applying to graduate school, or
who are in the process of writing an independent research paper for a class
We encourage all students to stop by – whether it is to meet with a Global Café mentor or attend one of the many interesting talks throughout the year!
Global Café Mentors 2021-2022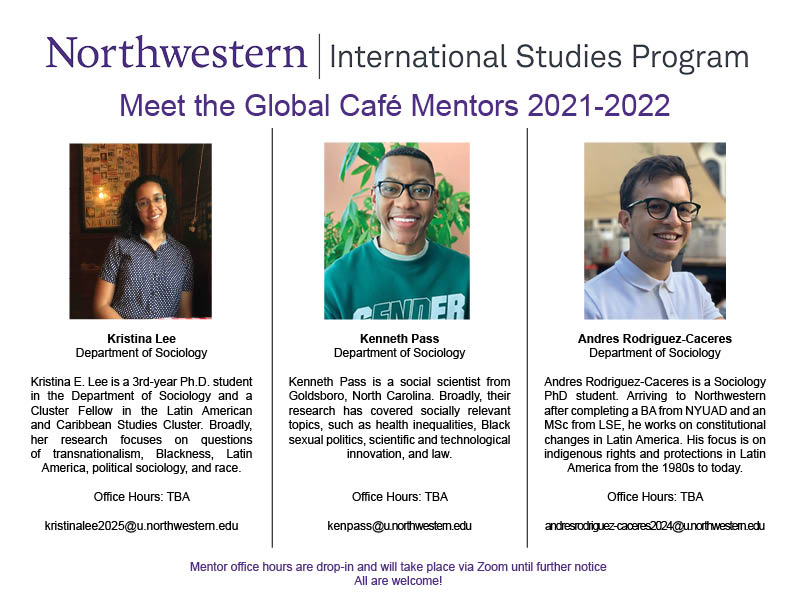 Back to top