Student Advisory Board
The Weinberg College Student Advisory Board (SAB) is the primary source of student advice to the Dean of the College and the Associate Dean for Undergraduate Studies.
The SAB plays a central role in the College by:
Helping nominate faculty and TAs for Weinberg College Outstanding Teaching awards ;
Selecting Weinberg College students to serve on several vital committees; and
Recommending a speaker for Weinberg College's Senior Convocation to the Dean.
Each year, the International Studies program nominates an IS major to join the board.
2020-2021 SAB representative
Junior, double major in International Studies and Economics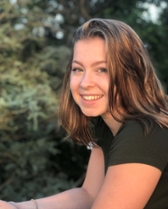 Meet Katarina....

*Describe your interest in the International Studies program. Why did you
declare?
I am interested in International Studies because I enjoy learning about how the world works.
Understanding how countries and cultures interact by contextualizing historical development,
international relations, and current political dynamics makes for a well-rounded sense of how
our current international climate came to be. I declared because the courses offered in the
International Studies program are so varied, and together they form a big picture of a theme
that really interests me. I feel strongly that in order to improve the world by addressing poverty,
inequality, or climate change, we need to understand the historical origins of these issues and
the current political barriers to creating effective change.
*If you could create an event for this department, what would it be and why would you
create it?
I would love to create an event for new International Studies majors that elaborates on the
different thematic concentrations for the major. I know when I was deciding which theme to
concentrate on for my IS major, I found it a bit challenging to know whether certain courses
would count towards themes such as Borders, Boundaries, and Crossings and Global
Humanities. It could be a weekly presentation at the beginning of winter quarter, so that
first-years considering an International Studies major have some time to explore other courses
and get settled for a quarter before thinking about a potential major. The event could take the
form of a virtual course fair in which students can explore examples of courses under each
theme, hear from upperclassmen majoring in IS, or even listen to guest speakers who have
careers related to each theme. The International Studies major works well as an adjunct major
with so many other majors, so I would love for this event to show students what the program
could be for them.
*What has been your favorite IS class so far?
My favorite class that I have taken for my IS major so far is Modern Global History, or History
250-2, with Professor Immerwahr. I really appreciated how the history course was relevant to
the present day and framed around the theme of climate change. Professor Immerwahr is an
engaging lecturer, and each time period we studied felt like another domino falling in the chain
of events explaining the conditions of today's climate crisis. One reading from that course
which stuck with me was an excerpt from Naomi Klein's "This Changes Everything: Capitalism
vs. the Climate," a striking reality check about climate change and the future of our planet.
Another IS class I thoroughly enjoyed was Poli Sci 250, Introduction to Comparative Politics,
with Professor Seawright. I had never learned about comparative politics before, and this
course used memorable case studies to demonstrate how we can compare variables in
different parts of the world. This class fell under my thematic concentration of Political
Economy and provided me with tangible tools of analysis for my future coursework. One of my
favorite things about being an International Studies major is the feeling of understanding the
world around me and how it came to be, and this course absolutely provided that experience.
Back to top