Joanna Grisinger
J.D., The University of Chicago; Ph.D., The University of Chicago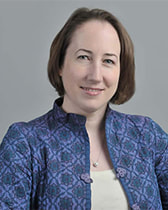 Joanna Grisinger is Associate Professor of Instruction at the Center for Legal Studies at Northwestern University, where she teaches a variety of undergraduate courses including Legal and Constitutional History of the United States, Constitutional Law, Gender and the Law, Law and Society, and Law & the Civil Rights Movement. She received her J.D. and Ph.D. in History from the University of Chicago; her research focuses on the modern administrative state in twentieth-century U.S. legal and political history. Her first book, 
The Unwieldy American State: Administrative Politics Since the New Deal 
(Cambridge University Press, 2012), offers a political history of administrative law reform. Her current research explores public interest participation in administrative decision making; she is currently working on a book manuscript that examines airline regulation as a site for mobilization around issues of race and apartheid, disability, consumer rights, and the environment.
Prof. Grisinger co-edits (with Deborah Dinner) the 
Legal History section
 of 
Jotwell.com
, and is the advisory editor on Law and Criminology for the 
American National Biography Online
. She is chair of the ASLH Standing Committee on the Annual Meeting and a past member of the 
American Society for Legal History's
 board of directors. She is a co-founder (with Kimberly Welch, Kathryn Schumaker, and Logan Sawyer) of the 
Law & History Collaborative Research Network
 (established 2013) within the 
Law and Society Association
.
Back to top